If you've just bought your first camera and you're looking for the best place to take it for a spin, you really can't go wrong with New York City.
From the hustle and bustle of Times Square to the quiet nostalgia of a suburb at dusk, the city that never sleeps is a never-ending source of inspiration for professional videographers and photographers alike.
Every corner of New York City has a story waiting to be told, but if you're looking for the best place to practice, parks are a particularly good idea. For one, they are safer and more peaceful than most places in NYC, so you can take your time and discover the settings of your new camera at your own pace. And secondly, parks offer a diverse range of artistic possibilities and you can experiment with several options: landscape photography, wildlife, aerial, portrait, photojournalism, macro, timelapses, and many others.
From popular parks that are packed with tourists to secluded gems that only locals know, these are the must-see New York parks where you can practice your new hobby:
Central Park
It may sound cliché, but Central Park really is one of the best parks in the world and deserves to be on the top of your list.
Apart from its sheer size, Central Park is a must for photographers and videographers because it has many different sights and attractions where you can experiment with various camera settings and techniques.
Bethesda Fountain – Central Park's most iconic landmark, Bethesda Fountain is a favorite among photographers and videographers alike. The site offers some impressive shots.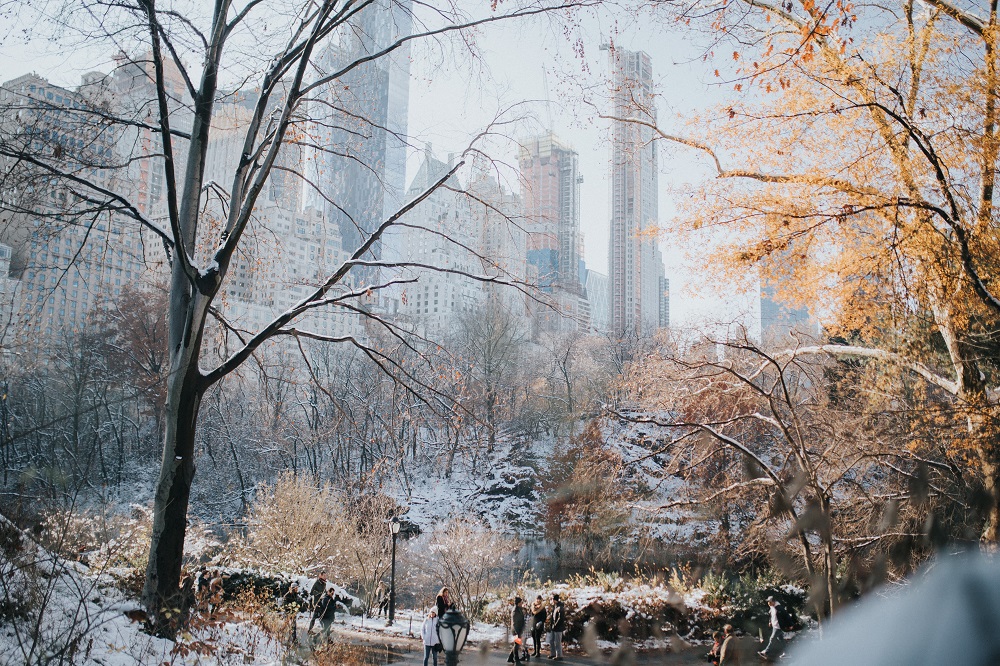 Gapstow Bridge – whether you want to take photos of the passersby at twilight or capture the reflections of the New York skyline in the water, Gapstow Bridge is a charming spot.
Bow bridge – set against the grandiose background of Fifth Avenue, Bow Bridge is one of the most romantic places in Central Park and New York in general.
Literary Walk (The Mall) – this is the only straight path in Central Park and takes its name from the statues of literary celebrities lined across the walkway. In the fall, Literary Walk is a spectacle of red and orange leaves and you'll definitely get some amazing shots there.
Flushing Meadows Corona Park
All parks in Queens are dainty and charming, but there's something about Flushing Meadows Corona Park that captivates both locals and tourists. This is the biggest park in Queens and, with a huge range of activities taking place there, it has something for every photographer and videographer to capture.
This park also has a zoo, so if you're interested in wildlife photography, it's a great place to practice.
Gantry Plaza State Park
If Flushing Meadows is too busy for you and you would rather practice your hobby in a more peaceful space, you'll love the small Gantry Plaza State Park in Queens. Located on the East River bank, it's a great spot to capture the Manhattan skyline and, if you want to take some incredible videos, stop by the 4th of July fireworks show.
Prospect Park
Designed by the same architects who did Central Park, Prospect Park is the more organic version because it wasn't limited by the grid layout. The winding paths that abound in natural plant life provide an escape from the urban jungle, while the Grand Army Plaza royal entryway is reminiscent of the great European capitals.
Prospect Park lake, with its ducks and kayakers is a photographer favorite, but if you're not interested in landscape photography, perhaps you can find inspiration in the neo-Italian Renaissance architecture of the houses on Prospect Park West.
Brooklyn Bridge Park
Brooklyn Bridge Park was designed to revitalize a section of Brooklyn's post-industrial waterfront and, today, its 11 sections offer a much-needed moment of respite to urban city dwellers. Although the green areas in Brooklyn Bridge Park are very beautiful, the park shines through its unique attractions and sports taking place there.
You'll see a restored merry-go-round from the 1920s, skating rinks, outdoor film festivals, literary readings during warm summer nights and here you'll be able to get on film the many faces of New York City.
Inwood Hill Park
If you're looking for a park that completely takes you out of the urban state of mind and immerses you in natural beauty, then look for further than Inwood Hill Park, located on a ridge that rises 200 feet above the Hudson river. Here, you'll find the last natural forest and salt marsh in Manhattan, so it's one of the rare places in New York where you can capture lush, untouched natural beauty.
At times, walking along the winding paths of Inwood Hill Park, you will completely forget you are surrounded by an urban area.
Tompkins Square Park
Photographers who love taking pictures of trees absolutely adore Tompkins Square Park and its collection of American Elm trees, but that's not all this park has to offer. Tompkins Square Park is one of the best parks in New York for people-watching and photojournalism, as it is a popular meeting place for artists, activists and eclectic fashion lovers.
Because this park hosts two major jazz events (Howl Festival commemorating Allen Ginsberg, and the Charlie Parker Jazz Festival), it's also a great place for you to practice concert photography and videography, so make sure you stop by. The park also features an annual dog run, perfect for pet photography, and the Tompkins Square Greenmarket taking place every Sunday will also fill you with inspiration.