As a follow up to my article How to Become a Screenwriter, I was thinking about Reality #5 (You Need a Thick Skin to Survive).
DON'T CRY FOR ME, LITTLE MISS SUNSHINE.
I like to think of myself as a generally understanding, agreeable person. Whether they're talking about politics, religion, or their views on ranch doritos, I try to smile and not mess up their groove. (Personally, I'm convinced that Hell has rivers of ranch doritos.)
…Then I come across a person who has their nerves in a twist because they got some criticism. Then- oh, reader- the nice gloves are off.
Granted, very few people like seeing their works of passion torn to shreds and it's reasonable to (briefly) bemoan such a fate. But as I stated in my previous article, I have more straight hairs than I do patience for a person who constantly cries about criticism.
AND FOR REFERENCE, HERE'S MY HAIR IN ALL IT'S MEDUSA-ESQUE GLORY.
But one thing I recently noticed is that these sort of people always offer the same excuses to why criticism is either invalid or basically someone tearing out their heart and force-feeding it to their soul.
Basically, they think they're this —
But really, they're this —
But here's the thing. These excuses are, in fact, merely excuses. Terrible ones that can be debunked pretty good…
Complaint #1: "They're not a screenwriter, so their argument is invalid."
Quick question, artist: are you a chef? What about a taxi driver? A postal worker?
If not, then by your own logic, you should never criticize a bad meal at a restaurant, being tossed around in a rough cab ride, or a postal worker accidentally giving you mail that isn't yours. I mean, you don't have their job, so you shouldn't have the right to criticize them.
"EYE BETTER NOT SEE A BAD REVIEW ON YELP."
Bottom line, you don't have to be in the career you're criticizing to criticize it. Filmmaking shouldn't be any different.
Complaint #2: "I don't see them doing any better, so they shouldn't talk."
Again, see complaint number one. You don't have to be a Le Cordon Bleu valedictorian to know that toilet soup makes for a bad meal. (Or likely does. Can't say I've ever had it.)
For those who (still) aren't convinced let me ask you something– would you listen to Roger Ebert's opinion on your film? If you would, then consider this: Roger Ebert actually wrote multiple films. What sort of films did he write, you ask?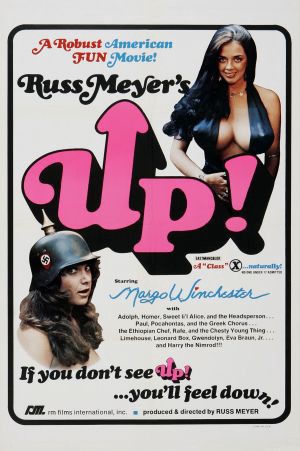 VOULEZ-VOUS COUCHER AVEC MOI CE SOIR?
Roger Ebert- one of the most legendary voices in film criticism, if not an outright saint of it- was responsible for often poorly-reviewed (albeit cult-beloved) sexploitation romps. Even if one was to appreciate the clear satirical nature of these films, many filmmakers wouldn't exactly call them "better" than personal projects. (Personally, I prefer the Cinema Snob's review of Beyond the Valley of the Dolls to the actual film.)
But does that mean that we shouldn't take his opinions to heart? My fear of losing my film school badge/gun not being a factor here, of course not! While Ebert's opinion will always be merely someone's opinion, it's hard to deny that he knew about/loved the film medium. Really, there's no better type of person to listen to…even if he made this a thing —
I GIVE THE SFX WORK HERE TWO THUMBS UP.
Complaint #3: "I didn't want any criticism, so they shouldn't have said anything."
A somewhat valid point if you're into things like complaint seven, but here's the thing–
If you got criticism, it means you put your art out in a place where it was seen. Even if you put it "I DON'T WANT CRITICISM" in writing by it, there's a chance it will still happen. Why, you ask?
That's just how people are, reader.
Let me put it to you like this. Let's say I got myself a huge, funny hat and went into the subway. Would it be sensible to not expect anyone telling me that my hat is, in fact, huge and funny?
SAY WHAT YOU WANT, BUT THIS MAN'S WI-FI SIGNAL IS PROBABLY AMAZING.
Look, if you don't want criticism, than don't put it in a place where you'll get it. Turn off the comments, keep videos private, hold your premiere on the moon. Though, that will likely come off as a little…
Either way, it's just silly to put out something and not expect people to say anything. Because this is real life, and real life likes to point out funny hats.
Complaint #4: "They're just being mean. They're haters."
Yes reader, sometimes commenters are just being mean when they write things like "this sucks lol" or some other crap like that. But when a person actually looks like they put thought into their comment, take it seriously and don't let your ego get in the way.
I've found that many people who fall on this complaint are very thin-skinned, which is a trait all artist must avoid like that one coworker with boundary issues and a hand fixation. (Don't ask.) Out of all the lines of work out there, art is the one that relies on public connection the most. Passion projects create aside (see complaint seven for that), art- especially film- is meant to be seen by an audience. To go into the arts (especially professionally) and not like people talking about you is like trying to become a surgeon and not being able to stand the sight of blood.
Genuine critics aren't out to hurt your feelings. They're out with the intentions of improving a creator's work, even if it's for their next project. Most critics have gone on record stating that when an artist they thrash to pieces improves, said critics are happy when this happens.
For example, let's look at the world of video games (a medium I write for), which has inspired enough Youtube critics to fill an entire zip code. One such critic is a walking sass factory by the name of Jim Sterling (or "Jim F***ing Sterling Son" to some). He's hardly the sort of person to pull punches in his criticism, one person he criticized being so affected by it, they considered leaving the industry.
But a funny thing happened to this depressed game developer. They took the biggest criticism ("Your characters look like scary animatronics") and made one of the biggest horror franchises in recent history– Five Nights At Freddy's.
Sterling got word that a developer he harshly criticized improved…and was very happy about it. He even admits that he's sympathetic towards creators who have their work torn apart by critics.
Complaint #5: "Their critique doesn't say what's good about my work, so it's not constructive."
Reader, if this is you, answer me this: what the hell is critiquing? As in, the definition?
I'M REFERENCING WHAT I CONSIDER TO BE THE MOST OVERRATED MOVIE OF ALL TIME. IT'S 20ºF OUTSIDE RIGHT NOW, LIKELY BECAUSE HELL HAS FROZEN OVER.
In basic terms, it's to evaluate something, not shower it with praise. If it really does need a lot of improvement, then it doesn't have to say anything good. What's more, how is giving you suggestions on how to make your work better NOT constructive?
In fact, if your feedback really does only have bad things in it, then your biggest concern shouldn't be "There's no compliments in my feedback." It should be "Oh crap, nobody could say anything good about my work." Which brings up to the simple cure to any anguish you feel over your complimentless feedback: fix your work. That way, people will say good things and you'll feel better.
…Although, that could be an issue if you're gunning for complaint number six.
Complaint #6: "I disagree with their opinions or think they misunderstood the message."
Oh yes, most beloved reader. Like the occasional rain in the driest armpit of Arizona, sometimes a reviewer could be wrong about your work. Maybe they genre isn't their thing or something. For example, celebrated critic Gene Siskel was hardly kind to the first Friday the 13th film, despite it being considered one of the most quintessential horror films on the face of this long-suffering planet.
HE DELIBERATELY SPOILED THE MOVIE IN HIS REVIEW AND DOXXED BETSY PALMER SO PEOPLE COULD WRITE COMPLAINS TO HER. JASON WISHES HE COULD BE AS BRUTAL AS THIS GUY.
And lord knows that there are people who misinterpret the messages works try to convey all the freaking time. For example, there are people who think that The Incredibles was actually a metaphor for Ayn Rand's philosophy.
WHO KNEW THAT A FAMILY IN SPANDEX COULD GIVE BIOSHOCK A RUN FOR ITS HIPSTER LOGIC MONEY?
But here's the thing– do you know the best way to fix this problem? Getting more criticism. In fact, it's actually because of this possibility that you should get as much criticism as you can. That way, you can find out if it really is the reviewer or your piece that's a little wonky here.
If you find that your message is still being misunderstood, you might want to consider reworking your story so that your message is more clear. Of course, if you like the story way it is, this also might mean taking stock of what's more important- your message's clarity or your vision- and trying to find a happy medium for your project.
Not to mention that another complaint could be a thing here…
Complaint #7: "It's a personal/passion piece, so I shouldn't take criticism seriously."
Out of all the things on this list and my moaning throughout this article aside…this is easily a valid complaint.
I LIKE TO THINK THIS IS THE REACTION OF SOMEONE OUT THERE WHO'S READING THIS THING.
In art's purest spirit, it's an expression of self that has total disregard towards people's opinion of it. Basically, you let your soul sing and not give a crap about what people think about the end product. So if this was the purpose of your project, then it might be reasonable to actually ignore most (if not all) criticism.
THIS PICTURE DOESN'T REALLY FIT IN THIS SECTION. I JUST NEEDED SOMETHING FOR THIS SECTION AND STILL MISS GENE WILDER.
…However, if you do take this route, there's something to consider. Criticism's purpose isn't just to point out a work's flaws, but to help a work improve. If a work needs improvement but doesn't get the help it needs, it won't necessarily go far in terms of commercial success.
Again, if making money is the last thing on your mind here, then by all means ignore criticism. (Though, try to keep staining Facebook/Twitter/so on with tears.) But if you're not willing to improve for the sake of having it build an audience/be commercially successful/appeal to more people, then you shouldn't complain when your project fails to do all these things.
Avoid these 7 deadly complaints, or you won't go far with your screenwriting career.
I've got a portfolio here and a Twitter here. If you don't have boundary issues and a hand fixation, I think we could geek out together just fine!0 Likes